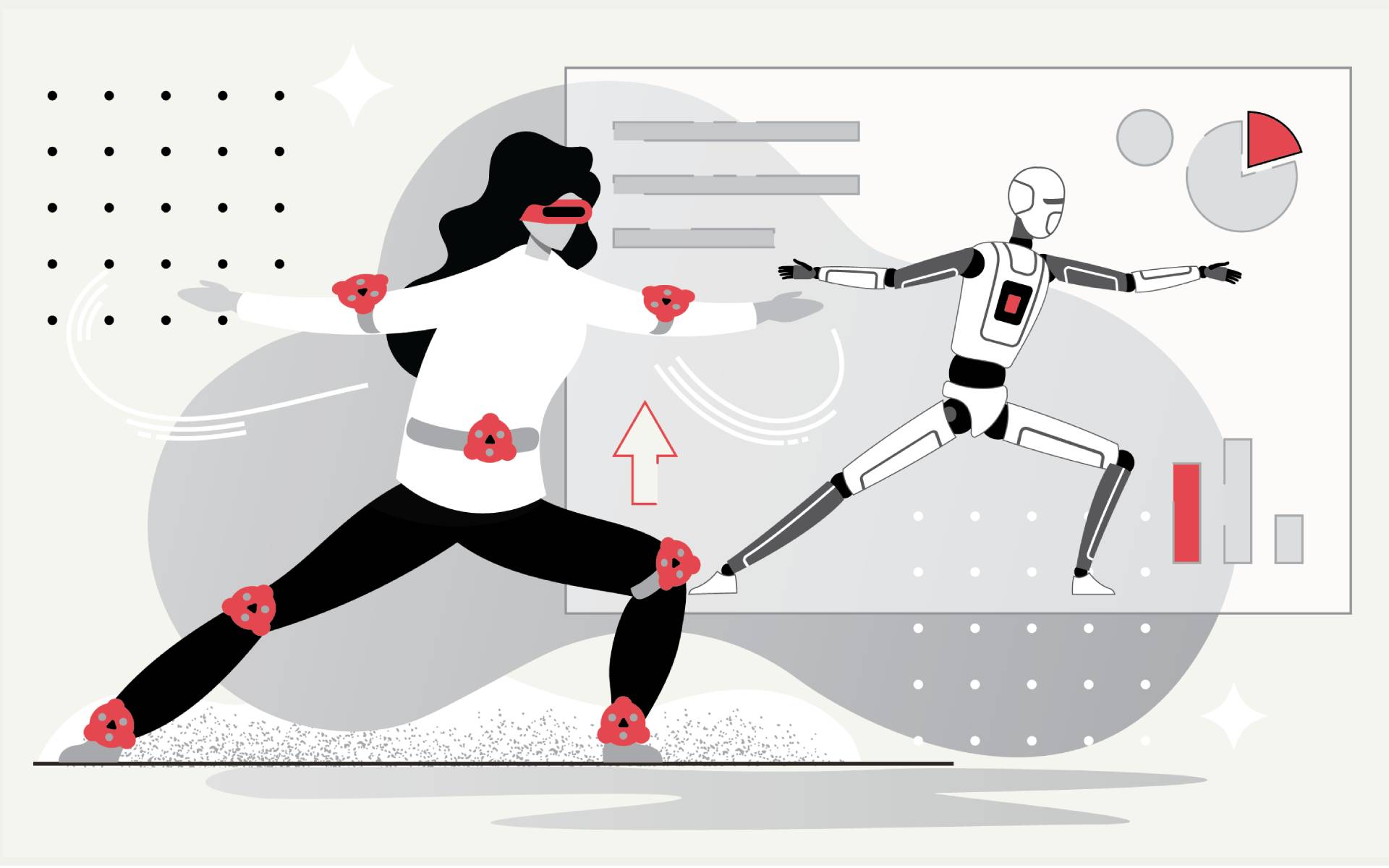 When it comes to full body tracking Vive is at the forefront of the market, but are these technologies worth it for the average user? In this article, we look at all the reasons why tech like full-body tracking from Vive and, hopefully soon, from Oculus and software like VRchat is worth investing in today.
What is full body VR tracking?
For an early example of VR through tracking, Nintendo Wii is the place to look. As VR developers, we already know and love all that the phenomenon of Wii Play brought to the VR industry. Showing just how viable new technologies are to consumers. Even if the functionality of that technology wasn't quite there yet in terms of accuracy and capability. With that in mind, you can think of the current iteration of full-body VR tracking as an amalgamation of those expensive OTT peripherals and the Nintendo Wii system. Less bulky than a full-on treadmill, but far more accurate than your average game of Wii Bowling.
The 'full body' experience is the holy grail for many VR developers. As such, considerable focus has been placed on creating that 4D experience in the last decade. Not one PAX or E3 event can go by without new tech. Haptic suits, reactive chairs and even VR treadmills are constantly featured on event floors.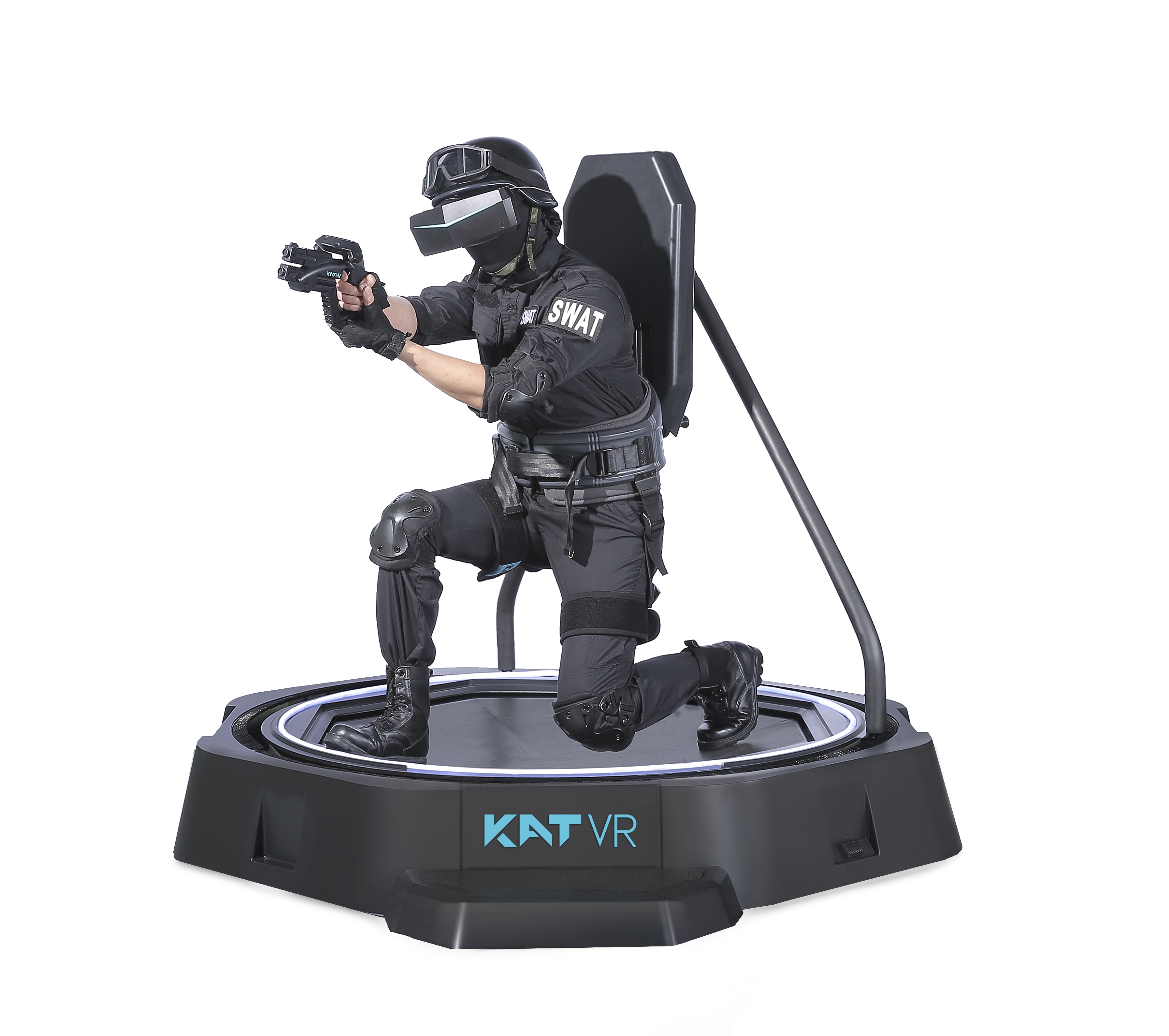 Picture from katvr.ru
In comparison to suits and treadmill, full-body tracking equipment is much cheaper but still offers a great level of immersion. The equipment for full-body tracking is a set trackers each smaller than a computer mouse. Without the need for expensive peripherals or space-hogging technology you still get an entirely different way to enjoy VR gaming.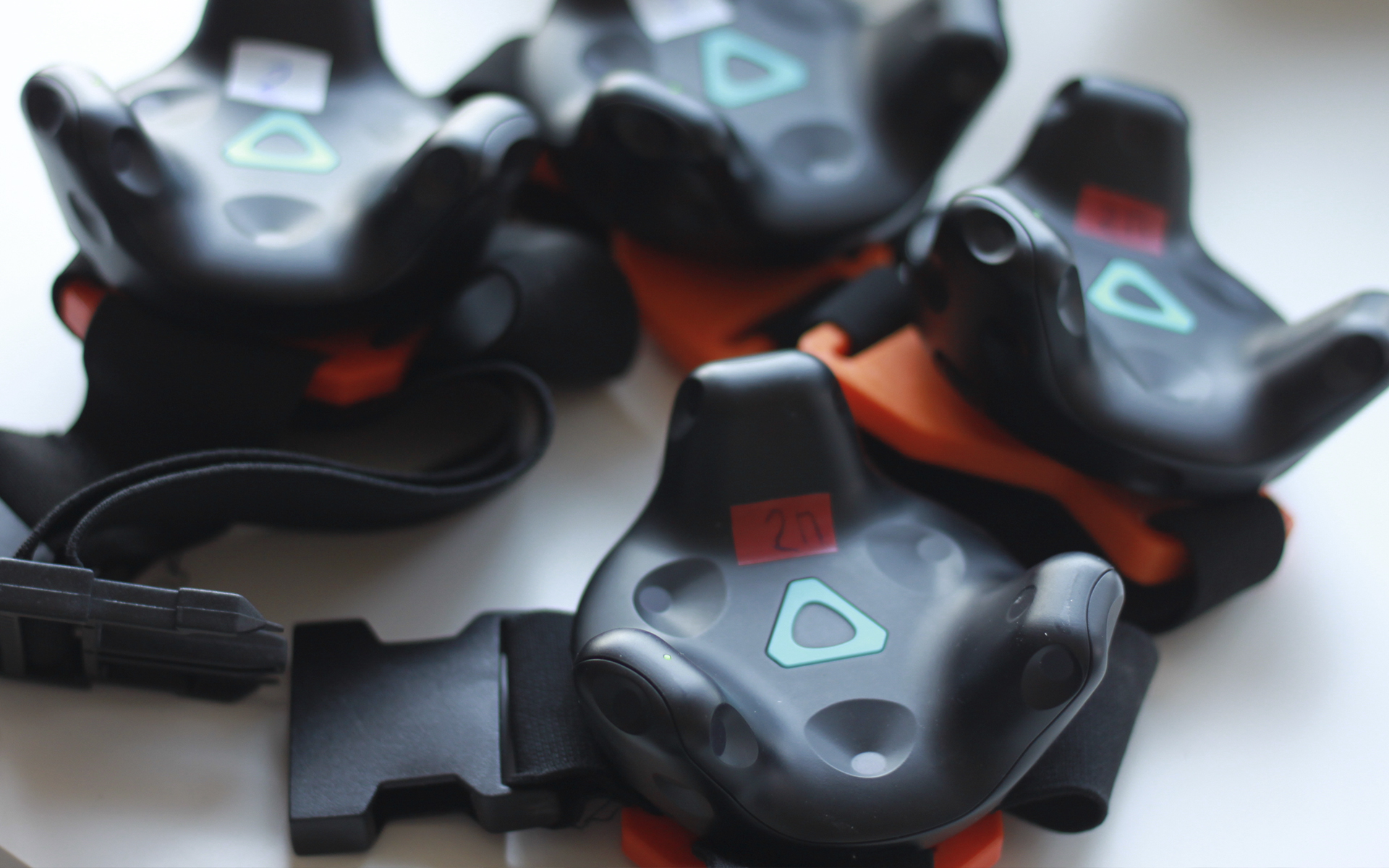 HTC Vive trackers
Some players do love the tactile experience of whole-body feedback – think haptic and rumble suits like an evolution of dual shock technology. But it's become apparent that enhanced level of feedback isn't necessary in most cases for users to feel immersion in zombie apocalypses and space exploration expeditions.
Based on this concept, HTC Vive have worked to develop the perfect middle-ground between bodysuits and controller play: full body tracking. You can find a few solutions for full body tracking for other headset, featuring controllers used like trackers. They work but do not look pretty. There are also tracking kits from third-party manufactures for oculus rift full body tracking, like Antilatency:
Utilising small-scale peripherals, systems like HTC Vive tracking allows your PC to incorporate the movements of your body directly into the virtual environment of your choosing. If you want to know more about how full body tracking works and how the technology's got to its current state, check out our piece on the history of VR tracking.
Why full body VR is a worthy investment
As a company that's knee-deep into the world of VR, we think full-body VR is well worth investing in. With more people interested in VR than ever, YouTube and Twitch are flooded with anything from lets plays to videos on how best achieve your own setup. Including for popular subjects like VRchat full-body tracking.
As one of the trending technologies of 2019, into 2020, there has been a huge influx in the development and creation of new titles from indie studios to triple A developers like Sanzaru Games with their "Asgard Wrath":
If you're already a fan of gaming, and you like to keep up with the latest tech, then you've probably already explored Vive trackers or Oculus Quest VRchat a few times. In our opinion, now is the sweet spot to take the leap to new tech. The next generation of console gaming is practically in reach. New technologies are going to merge far better with the world of VR. As such, it's to be expected that future AAA titles will be adding Oculus or Vive to their development cycle, or even introducing their own, as Sony's recent patents seem to suggest.
Full body tracking creates that added feeling of association between the virtual character and the player. It makes virtual world feel far more real by fooling your brain into believing you're in the game itself, walking and fighting, sneaking and shooting.
Are there any downsides to full body tracking?
VR is relatively new to the world of gaming, which often means additional cost. One of the most substantial downsides for casual players is the need to buy a recommended computer setup with enhanced computing power. The HTC Vive, for example, recommends an Intel i5-4590 CPU or better. As well as an Nvidia GeForce GTX 1060 or equivalent graphics card for proper functionality. Oculus Rift also holds a similar recommended spec.
Overall, for those without a PC setup in place, the costs of a computer can be anywhere from $1000-2500. Without even adding on the cost of the HTC Vive or Oculus Rift and trackers itself. The full specifications required for the HTC Vive can be found here, while the Oculus Rift specifications can be found here.
Alongside these specifications for PC builds, calibration is another downside that new users often aren't aware of. Unlike consoles, VR headsets and full body tracking peripherals aren't plug in and play. An Oculus Rift or HTC Vive setup requires additional time and input to be fully functional. As a still-evolving technology, there are also a few bugs and issues to contend with. Though not nearly as many as the early iterations of these VR headsets.
How much does full body VR cost?
It's without a doubt that HTC and Oculus are leaders in the VR field. Thanks to their popularity, a vast number of different games and applications support both pieces of tech. Other tech, such as Sony and Samsung, simply doesn't have the same compatibility – making them less viable options for players that want to experience the full spectrum of VR.
Oculus Rift S, the current generation of Oculus, is available for around $644.99 on amazon currently. For Oculus Rift full-body tracking, the current solution on the market is only provided by third-party manufactures and costs from $400 to $850. However, some users are making use of Xbox's old Kinect technology, using modern drivers to provide an alternative full-body tracking solution for less.
For HTC Vive full body tracking, those cost of a headset plus two controllers is around $700 on amazon for the basic model. Luckily, a ready-made solution for HTC Vive accessories already exists. The specially designed HTC Vive trackers are available individually at the cost of $99.99 each on amazon. Considering you are using two controllers for hand tracking, you will need at least two trackers for your feet. In case you need HTC controllers as weapons, like we do for our The Deep project, a set of at least four trackers is necessary.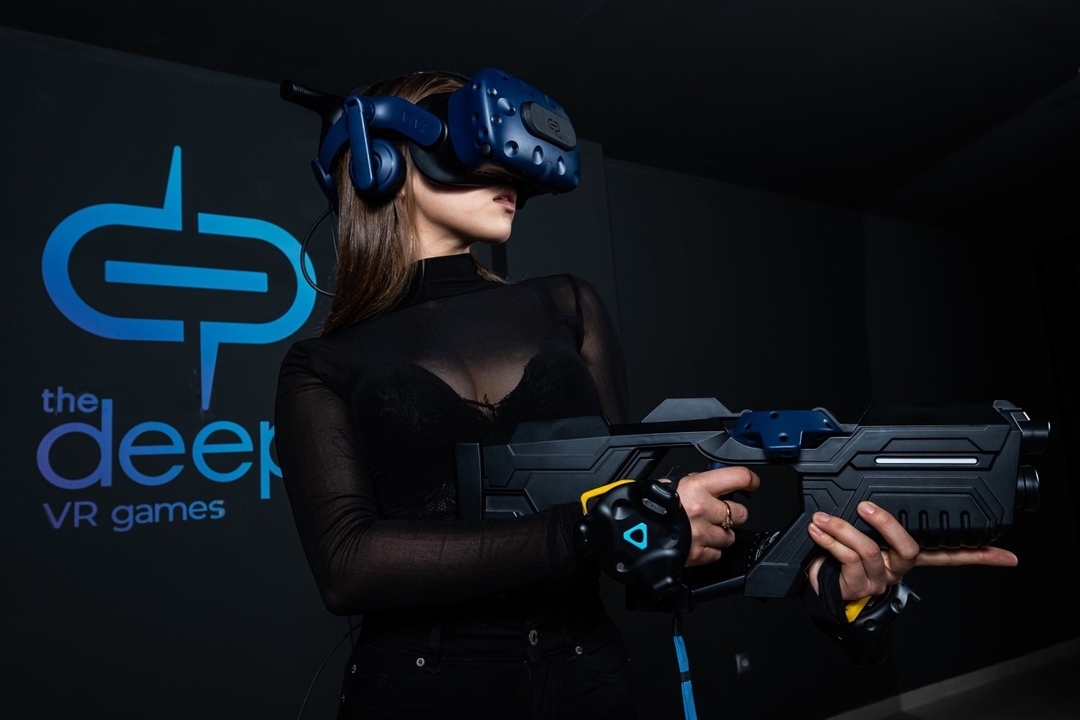 Hand trackers and a VR weapon with an inbuilt controller
It's always worth checking on the latest model from the developer, however, as the upcoming Cosmos Elite model includes a different, external method of tracking for around $899 on pre-order.
Games and apps that support full body tracking
The number of apps and games for full body VR tracking are increasing every day. VRchat is one runaway success of VR gaming, providing a social experience unlike anything else.
For those that prefer more athletic gameplay, much like the Nintendo, full-body tracking VR is also host to a range of different sports-themed titles. Final Soccer and #SelfieTennis are just a few examples.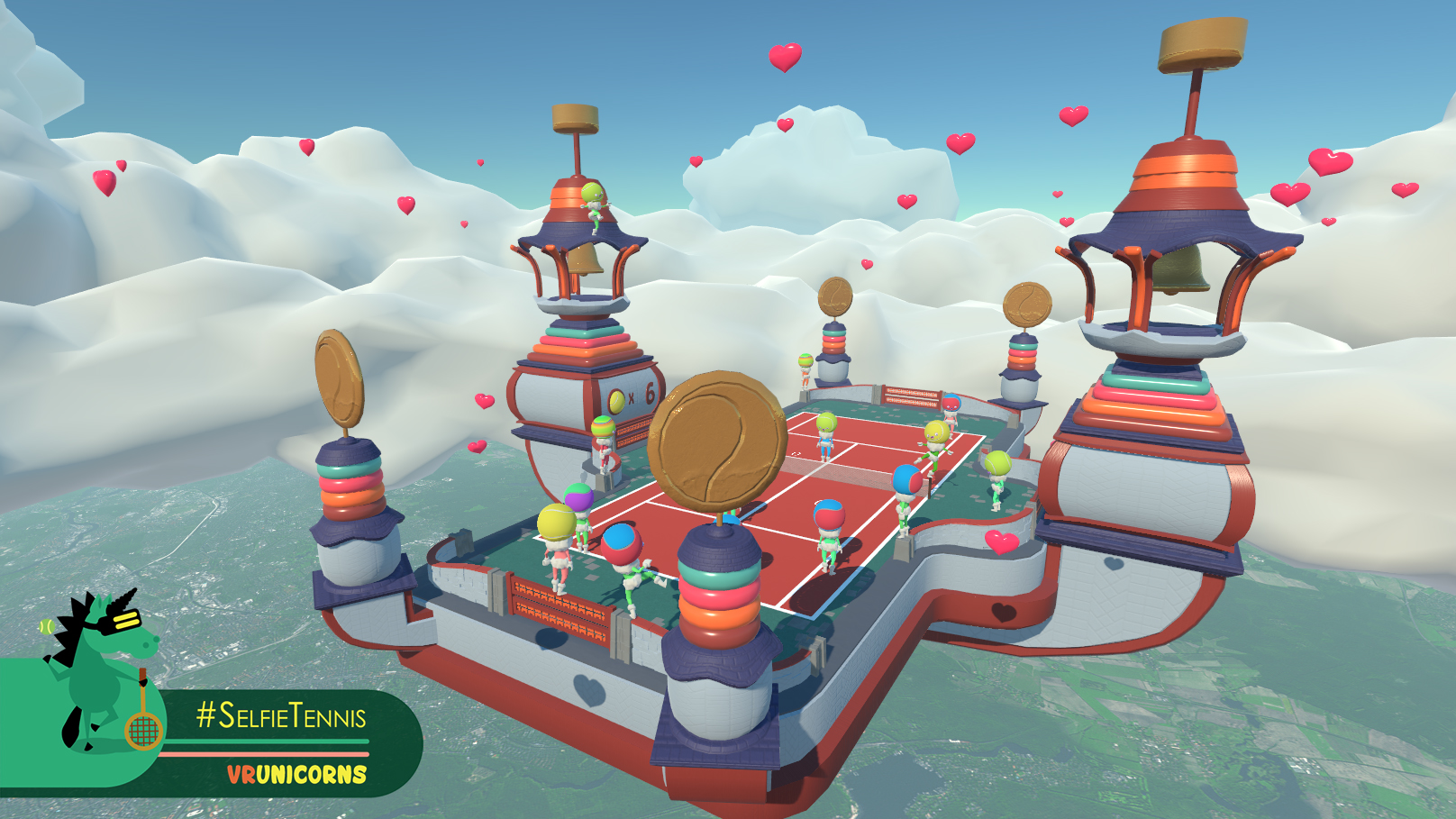 #SelfieTennis setup. Picture from store.steampowered.com
For more grown-up gameplay, games like Arizona Sunshine and Tactical AR offer gunplay and zombies in spades. Steam's online catalogue is the place to go for many of the VR titles on offer. It's well worth a look at their extensive library to find something you'd enjoy. That's one of the things we love most about VR – it's an experience that goes far beyond the console. It means you can get directly involved in the action, instead of passively controlling from a third-person perspective.
Finally, is full body VR worth the investment?
The big question: should you invest in full-body VR? In short, yes. But only in you were interested in VR in the first place. Getting involved in full body tracking is a great way to get even more use out of VR technology. As more and more games and apps migrate to using full-body tracking for their development, you don't want to be missing out on incredible titles simply because you haven't yet invested.
For casual players, or those just interested in VR technology, the price of investment may seem too steep. We advise you first try how full body tracking feels in a closest VR arcade. We welcome you in any of our locations, but if your city is not on the list, we recommend checking out VOIDVR's or SandboxVR's locations.
Luckily for those who does want to buy tracking equipment, Oculus and Vive are planning to support new gameplay, patches and software updates for the near future. This means that the cost versus entertainment ratio is getting more balanced than you might think. We're invested in VR – so we're a little biased. But in our opinion, if there's one type of entertainment tech to invest in, VR from Oculus or Vive should be top of your list.