BACK TO ALL
26 Aug 2019
Our Oculus Quest review
In this blog post we tell why our Virtual Reality department unanimously fell in love with Oculus Quest and out of love with HTC Vive.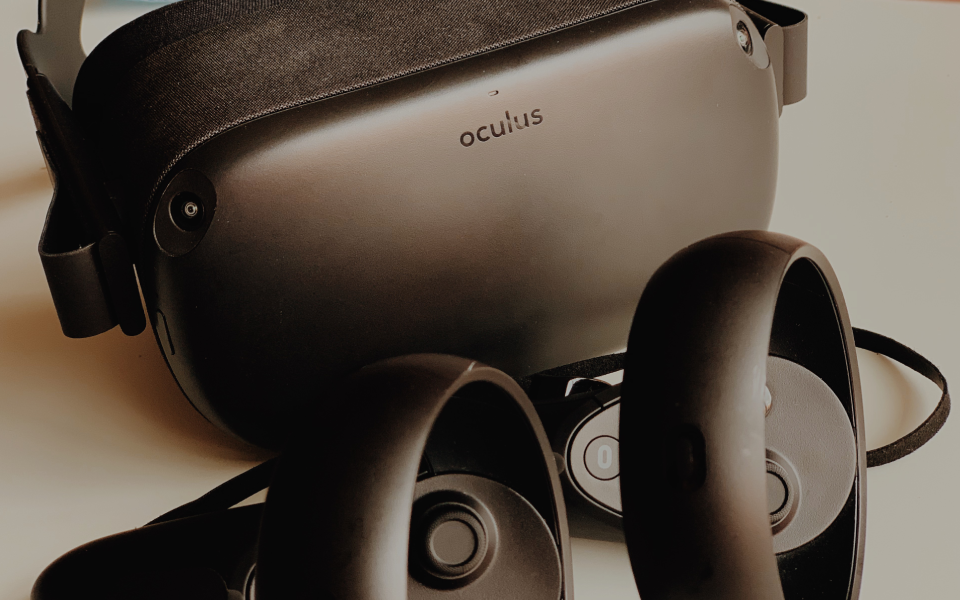 Disclaimer: this article is not an advertisement.
Exyte has a VR development department that has been working on a VR game for about 78 weeks now. This article is written after the words and gestures of our Head of VR, who absolutely loved new Oculus Quest, and further, we'll explain why.
VR and Gaming PC
That was where modern VR started. PC VR is proven but imperfect technology. In past years, the VR community had to choose between VR headsets for games on PC that provided all the power needed to create a truly immersive picture in virtual reality on one hand, and standalone headsets with less impressive graphics and capabilities on the other hand.
From the first glance, PC VR headsets win without a doubt. But they have drawbacks too, and the first one is that the whole package, a headset and PC, turns out to be quite expensive; the second is that it requires clunky cables physically connecting you to a computer or game console. The major shortcoming though is the setup. There are some frequent problems related to both hardware and software, that were always a close companion to gamers during the history of VR development. Even an ordinary "Headset not found" can become a nightmare due to the need to check the USB, HDMI, and power cable connection. Users note that even after years of experience with stationary VR headsets, they often get tangled in cables during active use.
Now to standalone headsets that do not need any wires and are much cheaper. Sure they concede to the former in terms of processing power and positional tracking.
In our project, the Deep VR, our goal was to let the users move freely, which means there can't be a cord dangling from the headset. Almost all available VR systems have a cord, and the wireless ones have a limit on the number of players in the area. Our solution was employing a wearable computer in the form of a backpack. We were certain to opt for the same solution for our second game too, but that was until May 2019 when Oculus released Quest, a standalone VR headset that embodies the best of older models of Oculus headsets, Go and Rift.
Oculus Quest specs
Oculus Quest processor is Qualcomm Snapdragon 835 VR , significantly superior to Snapdragon 821 used in Oculus Go
Oculus Quest resolution: OLED display provides 1440х1600 pixels for each eye, which is higher than Go and Rift's (1280х1440)
Oculus Quest refresh rate is 72 Hz
Oculus quest modifications are 64 GB or 128 GB of memory
4 GB of RAM
Lithium-ion battery with 2-3 hours playtime
3,5 mm jacks for headphones
Like Oculus Go, Quest is a standalone headset, which means it doesn't connect to your phone or PC. While Go is designed for stationary TV or movie viewing, Quest is a multifunctional device that can be used for gaming too. It includes two manual controllers with six degrees of freedom (6DOF) and is equipped with four wide-angle cameras of the inside-Out tracking system that allows users to walk around a relatively large space. It does not require the installation of any additional systems and sensors, which makes the headset even more comfortable.
Quest is also more powerful than Go, and for a standalone headset, its graphics capabilities are as close as possible to the level that PC VR offers.
Quest Quest weight is surprisingly light – 590 grams, but the suspension distributes the weight quite well, especially compared to the heavy HTC Vive Pro that we used for the Deep project and have to spend quite a lot of time wearing it while testing.
User-friendly UI
Like Oculus Go, quest uses Android designed for virtual reality. After getting our hands on Quest, some of us could not help taking it home to show VR to family members, who sometimes were not familiar with VR technology at all, but still, could understand how to navigate in Quest's virtual reality interface.
By default, the system places you in the center of a virtual living room, and windows of the operating system appear right in front of you. Browsing through the library, Oculus store, or any website in Quest, you'll be looking at a window floating in the middle of the living room. Pressing the Home button on the right controller brings up the menu bar under the main window, which provides quick access to your library, store, settings, web browser, and Oculus TV app. It's a thoughtful and straightforward interface that should be familiar to any Oculus Go user and most Android device users in general.
Oculus includes several native applications for accessing the content: a web browser and Oculus TV, as well as the Oculus gallery and a tutorial called First steps. The web browser is a full-featured portal that opens in front of you, allowing you to use the touch controller as a pointer to press and enter text using the on-screen keyboard.
The best standalone VR headset
Independent hardware has a huge advantage for developers, as we don't have to consider the endless array of PC hardware configurations and can focus on providing good visualization. As for quality control, according to the official rules of Oculus Quest Store, submitted applications should be intuitive and have polished UI.
Quest's user-friendly interface, a large number of applications in the Quest Store, and light-weight controllers that sit comfortably in your hands make this it an ideal device for a consumer market just like personal computers, tablets, and smartphones.
This headset will be useful even when there is no connection to the network. Most of the early Oculus Quest apps were designed to work offline; the built-in Guardian system, that effectively defines a user-defined boundary for their play area, also works perfectly offline.
Quest and other VR headsets
When comparing the Quest headset to other Oculus headsets, for example, Rift S, its autonomy is once again highlighted, for you would need a PC with A NVIDIA GTX 1060 or AMD Radeon RX 480 graphics card to experience VR with Rift S, and you would need nothing but Quest to experience VR with Quest.
At the same time, Quest leads significantly in comparison to Go, another standalone Oculus model, in terms of performance of the built-in processor, positional tracking, and headset control capabilities. When comparing Quest to stationary headsets from other manufacturers, for example, PlayStation VR, it becomes evident that Quest is certainly not inferior in characteristics. Quest screen resolution (1600 × 1440) compared to PSVR resolution (960 × 1080) provides a clearer, more realistic image, creating an overwhelming sense of virtual reality. Both headsets provide 6DOF, which many consider "full VR." However, PSVR requires using an external PlayStation camera and wires connecting the headset directly to the PS4. Quest does not require external cameras or a wired connection.
Standalone headsets from other manufacturers, such as HTC Vive Focus Plus, are as close as possible to the characteristics of Oculus Quest, although they are still inferior. Take the amount of internal memory: Oculus sells Quest in two modifications, one with 64 GB and the other with 128 GB of internal memory, while HTC sells Focus only with 32 GB.
In terms of user comfort, the Vive Focus Plus is definitely bigger than the Oculus Quest, hence it is heavier on the head.
The final price of Oculus Quest is $ 399 for the 64GB version and $ 499 for the 128GB version. Vive Focus Plus costs $ 799. As you can see, the choice is obvious: for the price of Focus Plus you can buy two Oculus Quest.
These and other comparisons show that in today's VR headset market, Oculus Quest has firmly taken first place among standalone headsets and successfully competes with stationary VR systems. The equipment we were using for the project cost about $3000, including HTC Vive Pro and MSI backpack PC powering it. No wonder we decided to switch to Quest for our next game.
Quest for a new step in the development of VR
Now humanity is on the verge of the widespread introduction of one of the most interesting, exciting, and truly innovative technologies in the last two decades.
Virtual, augmented, and mixed reality technologies attract millions of dollars of investments, and the VR market is already estimated at hundreds of billions of dollars. The technologies are ready to transform entertainment and have a significant impact on such different industries as health, tourism, sports, education, and manufacturing. It's no news that NASA is already using VR to train astronauts to work on Mars.
Again, this article is not an ad, we do not propagate you buying Quest, but we highly recommend you try it in a nearby store or VR arcade.