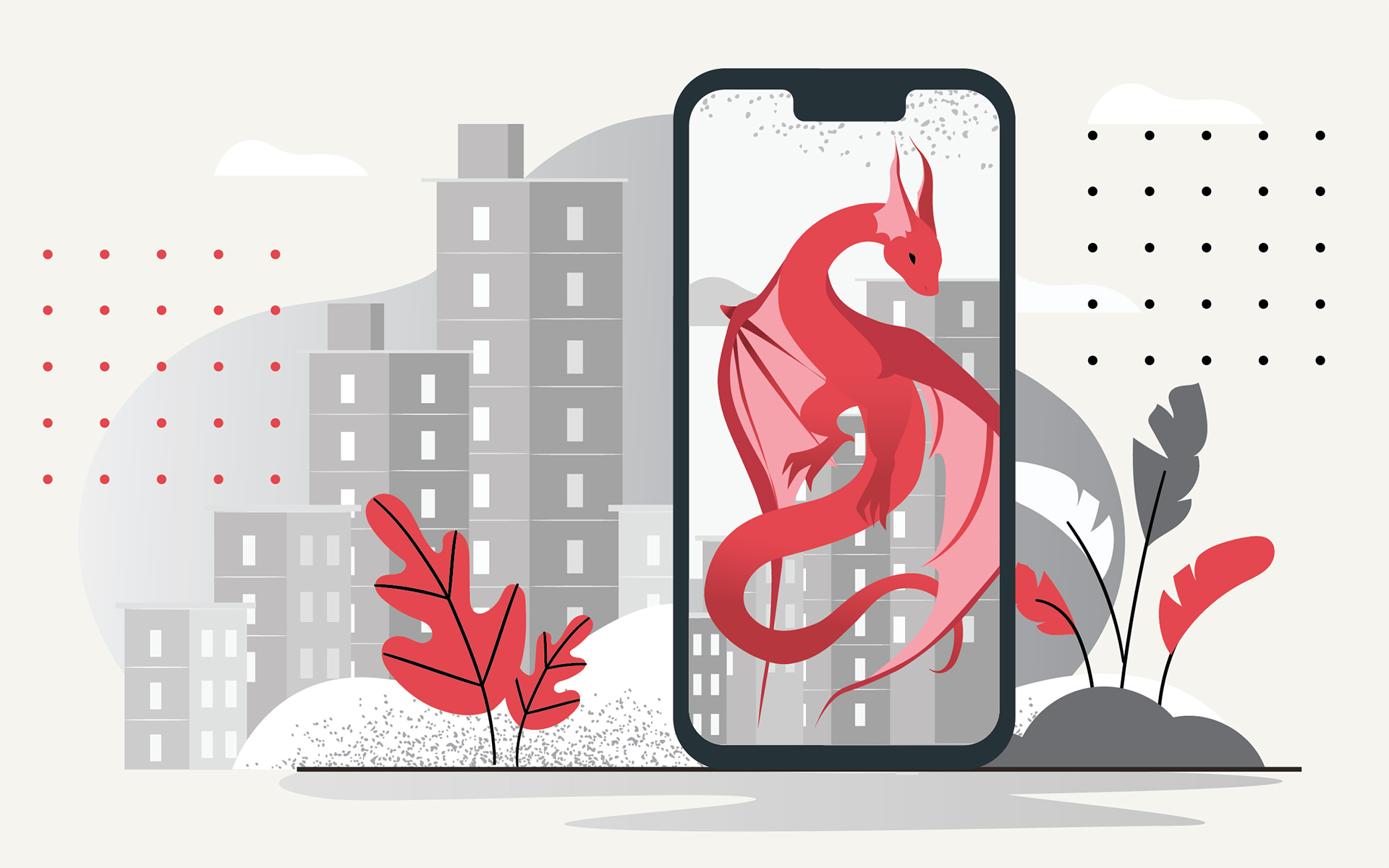 Ever since Pokemon GO launched in 2016, Augmented Reality (AR) games have gone from strength to strength in the mobile gaming market. Pokemon GO introduced a range of capabilities to the mobile gaming market based around the innovative AR principles. For example, the real world became an entire fantasy realm where important landmarks were made into Pokestops and Gyms. This meant players would venture into new places searching for opportunities to find new rewards and items. And with GPS tracking players' journeys, the ability to be rewarded simply for covering a certain distance became available.
It was an unprecedented leap forward in mobile gaming, combining a smartphone's GPS, camera, mobile data and more to enable players to experience a fictional world based on the real one. Placing the loveable Pokemon in the real world was a thrill for players everywhere. And it brought about superb opportunities to play together, as the Pokemon that appear can be seen and captured by everyone. In the early months, enormous crowds would gather as opportunities to catch the rarest Pokemon arose. And the health benefits of getting people out and walking around enabled the game to break the common stereotype of gamers being lazy couch potatoes!
The technology of modern smartphones provides players with long battery life and powerful processors. This means that AR games are available to most, and they are transforming the way people play games on their mobile devices. Pokemon GO was a turning point that brought AR gaming into the mainstream, and there are some fantastic AR games for players to enjoy in 2020. These games combine other phone features and social opportunities in different ways for unmissable mobile gaming experiences.
Here are the top titles for you to try if you love Pokemon GO
Harry Potter: Wizards Unite
Multiplayer. Free to Play
Harry Potter: Wizards Unite is one of the best alternatives to Pokemon GO if you love AR gaming. It is developed by the makers of Pokemon GO, Niantic Studios, in association with Warner Bros Games. The basic concept of the game is that players must visit real-life locations to discover artefacts, cast spells and meet legendary beasts and iconic characters from the much-loved fantasy universe of the Harry Potter series.
In Pokemon GO, you can battle your pokemon with others. In Harry Potter: Wizards Unite, players can battle against the mythical beasts they encounter in the world. You get the chance to choose your profession from Professor, Auror or Magizoologist. Inns play the same role as Pokestops, enabling you to replenish your spell power. There are also greenhouses where you can obtain potion ingredients and grow new ones, and fortresses where more creatures can be fought.
It's a hugely popular AR game with more than 5 million downloads in the Google Play store alone. It's available for free, and there are some in-app purchases that you can buy to enhance your experience, but they are not compulsory.
Ingress
Multiplayer. Free to Play
This is another beautiful production of the superb Niantic Studios, developer of the best Pokemon MMO we all know and love. Just like Pokemon GO, it's an AR game that is massively enjoyable to play. The game revolves around seeking and discovering Exotic Matter (XM) and other powerful energies that exist in the world around you as you explore.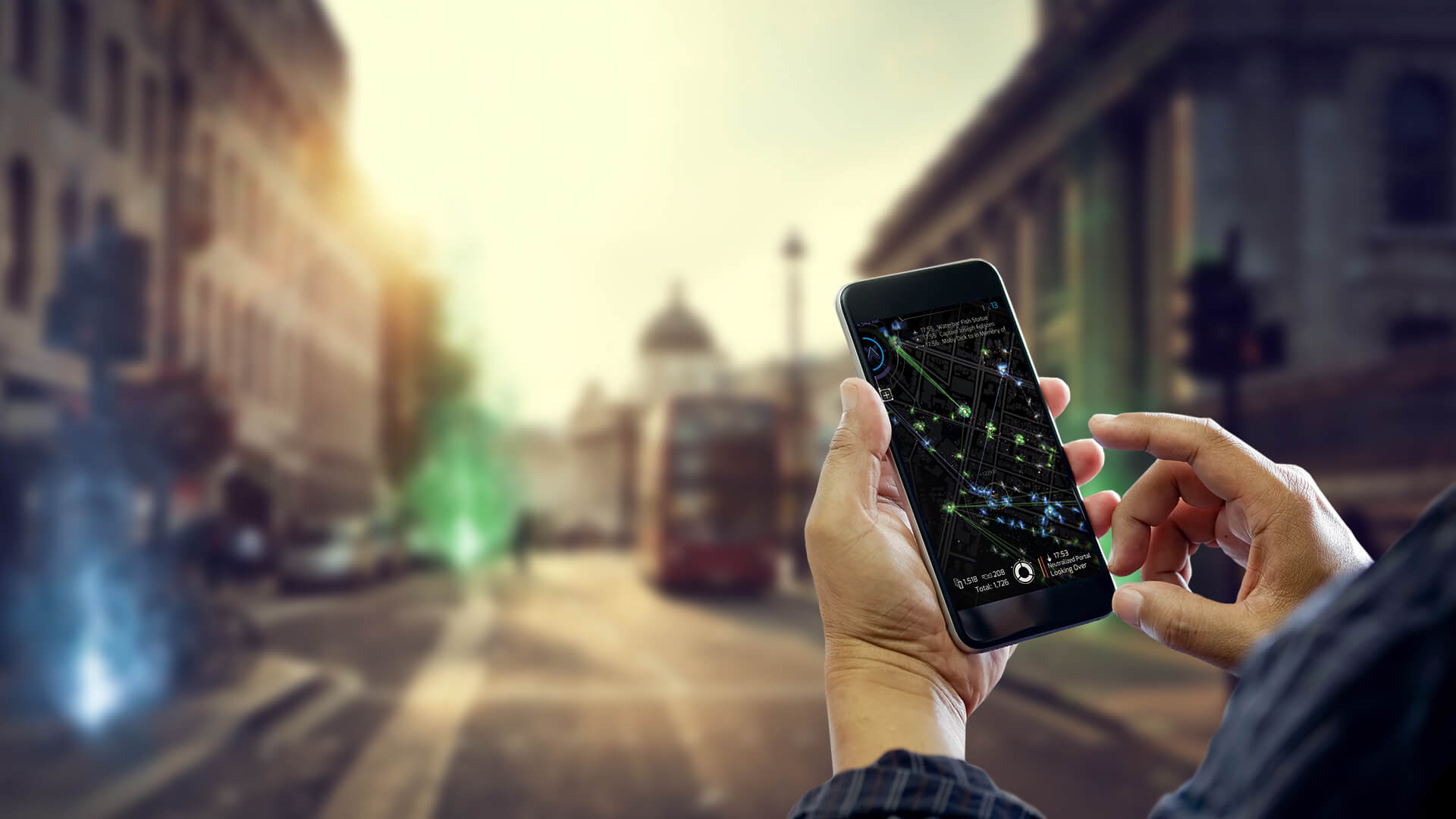 Picture from www.ingress.com
In this variation of the AR game concept, your GPS is used to help you locate 'portals' close to your real-world location. You can pick a side for your quest: choose 'The Enlightened' if you want to harness the power of XM to dominate mankind, or 'The Resistance' if you want to resist and fight back against those forces.
Players are called Agents in Ingress. The game enables Agents to communicate with one another, so you can make friends as you journey through the game. It's another free game for both Android and iOS platforms, and it currently has more than 10 million downloads.
The Walking Dead: Our World
Single-player. Free to Play
The Walking Dead: Our World is a brilliant creation from Next Games and it is currently one of the top-rated AR games on both Android and iOS platforms. As you can imagine, the game is based on the hugely popular Walking Dead franchise, complete with an endorsement from the creators of the television show. You will recognise characters and art styles from the TV show and other games you've played. Players must take on the challenges of the zombie apocalypse in an AR world, exploring their surroundings, shooting zombies and discovering valuable items in a constant quest for survival.
If you're after scary multiplayer games, the game allows you to play co-operatively by creating a group with your friends. There are weekly co-op challenges where you and your friends can work together to earn big rewards. The game was the recipient of 3 Webby Awards in 2019, including the award for Best Use of Augmented Reality from People's Voice.
With 5 million+ downloads on the Google Play store, you can start playing The Walking Dead: Our World for free.
Zombies, Run!
Single-player. Free to Play
This game ) first came into existence way back in 2012 from British studio Six to Start and Naomi Alderman. It works like a fitness game set in the environment of Abel Township, an outpost for survivors trying to make it through a zombie apocalypse. The app is packed with scares and excitement that are designed to force you to be active and get exercising. It aims to make the experience engaging with a high level of realism, so you will find the experience harrowing and thrilling at the same time!
It's a truly impressive title that puts you in an immersive zombie apocalypse scenario. You will rely on audio to guide you through a frightening adventure in which the ravenous zombies are always on your tail. You will find yourself running faster and harder to survive, and you will also be motivated to move around and help other survivors. Every run you make yields supplies for the Abel Township community, making it one of the great phone games to play with friends.
Zombies, Run! was such an enormous hit that it became the highest-grossing health & fitness app on the iOS store within 2 weeks of launching. Fully updated for the modern market, it has more than a million downloads on the Google Play store, and it can be yours for free if you think it might be the game for you.
Ghostbusters World
Single-player. Free to Play
Pokemon GO is all about players walking around exploring the world to catch pokemon. Ghostbusters World ) is a similar AR concept, where players must go out into a world full of spooky ghosts and try to catch them. It is adapted from the Ghostbusters movie franchise, so you can expect to see some of the iconic spooks and characters from the movie.
The game has been developed closely with the Ghostbusters movie creators, so you will see many familiar elements like different dimensions and proton beams. The game also has multiplayer features, where you can team up with other nearby ghostbusters to take down powerful ghosts like Stay Puft in multiplayer boss raids. It's undoubtedly one of the top AR mobile games to play with friends.
This game was developed by FourThirtyThree Inc. and boasts more than a million downloads on the Google Play store. You can get it for free on both Android and Apple devices, and it's tons of fun from the moment you get started.
Honourable mentions
Run an Empire
Multiplayer. Free to Play
You capture the territory you run around, so the wider is your running loop, the better. The mechanics of Run an Empire makes you compete with other player for the claimed territory. A brilliant experience for a lover of walking and hiking of all ages. Conquer lands and expand your empire while doing cardio.
Walkr
Single-player. Free to Play
The settings put you in a spaceship roaming around the universe with the of discovering new galaxies and planets. Walkr uses pedometer, but there is no actual augmented reality in the game. However, there is a talking dog that tells what to do, some might say that this is somewhat augmented. You walk at least 30 minutes to discover a new planet.
ARrrrrgh
Single-player. Free to Play
A hide and seek game based on a pirate theme that can be played in the home or any other environment. It's in its early stages right now, but it's definitely one to watch.
Final thoughts
The other AR games that have emerged since Pokemon GO have all brought their own ideas to the table, but few can match the scale and accomplishment of Niantic's phenomenal game. The special events that are frequently rolled out offer players the opportunity to improve their roster and the Raids that pop up throughout the day still attract huge numbers of people.
There are also special safari events where players can purchase tickets to head to a physical location where some of the rarest Pokemon can be captured. In short, it is the sheer scale Pokemon GO that continues to set it apart from the competition. However, as the other games evolve and develop, Pokemon GO is sure to be dethroned as the greatest AR game sooner or later.
Go and take a look through your options or choose one of the titles covered in this article, and take advantage of the evolving AR gaming concept as the unique features of your smartphone give rise to new experiences. We guarantee you will have a great time no matter which game you choose to give your time to.
If you'd like to hire us for your AR project, drop us a line here.