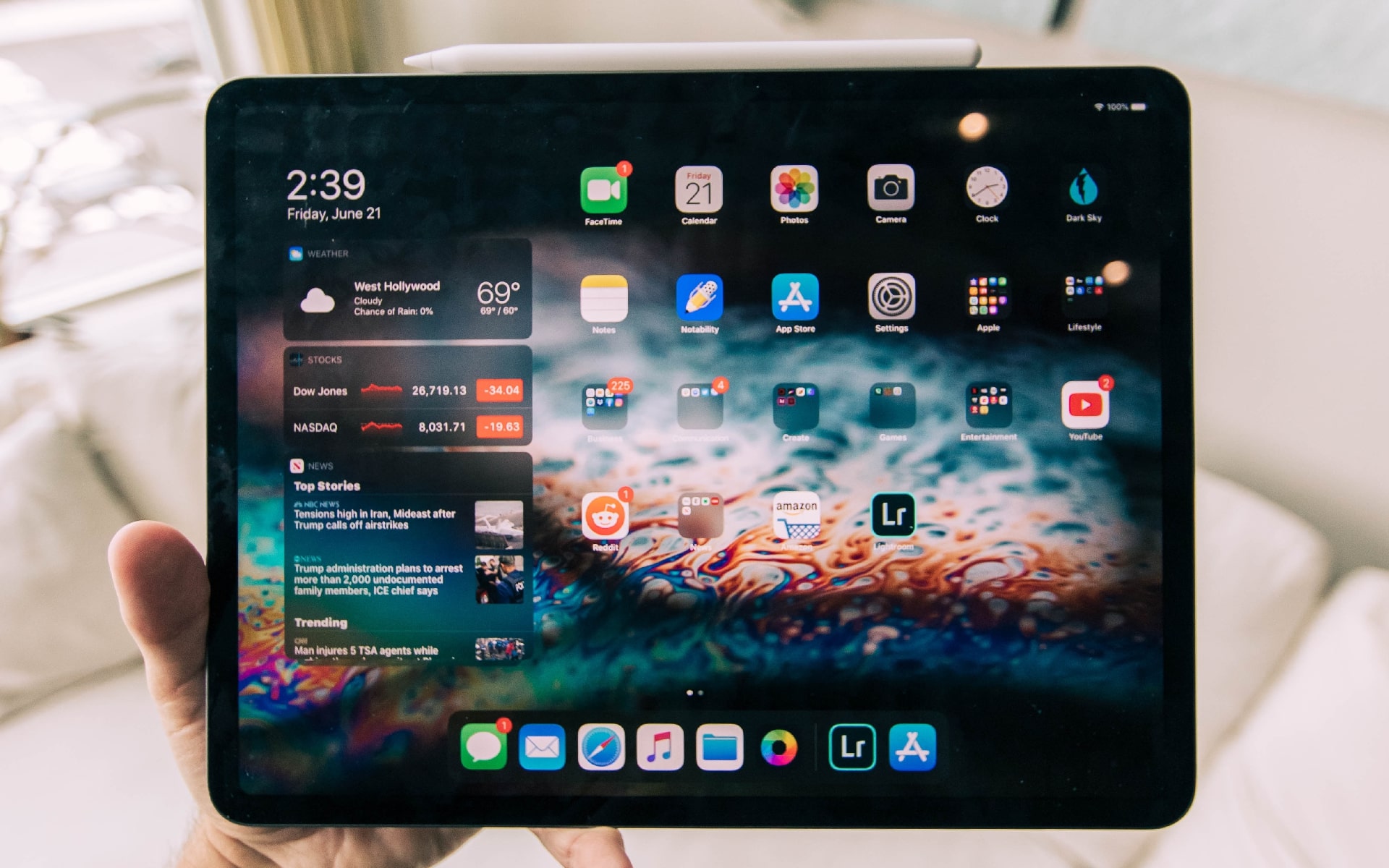 The App Store statistics for top 10 apps (according to AppAnnie) in any category in the United States shows that 90% of those iPhone apps have an iPad app companion. An exception from this pattern is Instagram iPad app, which is non-existent, and that is not surprising at all, many things about Instagram is unfathomable.
The world of iOS development is interesting when it gets to iPad apps development. The good news is that if you took care to create your UI with correct constraints (instead of using constants), you need to do minimum work - add tablet support to the deployment info in your project's settings and take care of a number of special cases (for example, setting the sourceView and sourceRect for you action sheets).
On the other hand, the resulting app will be decidedly "non-tablet", with under- or over-sized elements, unused space and with phone-optimized UI.
It might be good enough depending on the app, but if you are looking to provide a first-class user experience, you need to consider creating separate mockups and workflows for your iPhone and iPad app. While it means more work for everyone (developers, designers and QA), the result makes the app stand out as a first-class high quality effort.
And if you decide to go down this path, why not take it one step further and add iPad-specific quality of life improvements and unique tablet features?
We've compiled a list of features to consider before getting to custom iPad app development. Of course, there are more, but we selected those that we find interesting and useful in applications (depending on the usage and context).
We hope it will be useful to both teams in the design phase and owners of existing apps that want to improve and update them for the new iPadOS from Apple.
iPad app development and iPad Multitasking
We know it's an older feature (first appearing in iOS 9), but since then it's become ubiquitous in many interestingiPads apps, users would expect your app to support it.
The app must look good in SplitView and when showing a double-high status bar, be able to pause and resume without troubles, finish user started tasks in background and all other things conveniently listed in the official Apple docs. The road of iPad app development requires you understand the ways your app can be presented in the multitasking mode to make an informed decision of what you have to implement:
Slide Over - initiated by the user, this is an overlay view on the right side of the iPad screen with a separate running app.
Split View - this view displays two apps side by side, and the user can resize them as they please.
Picture in Picture - this option presents a small movable window that is shown over the app that is on screen.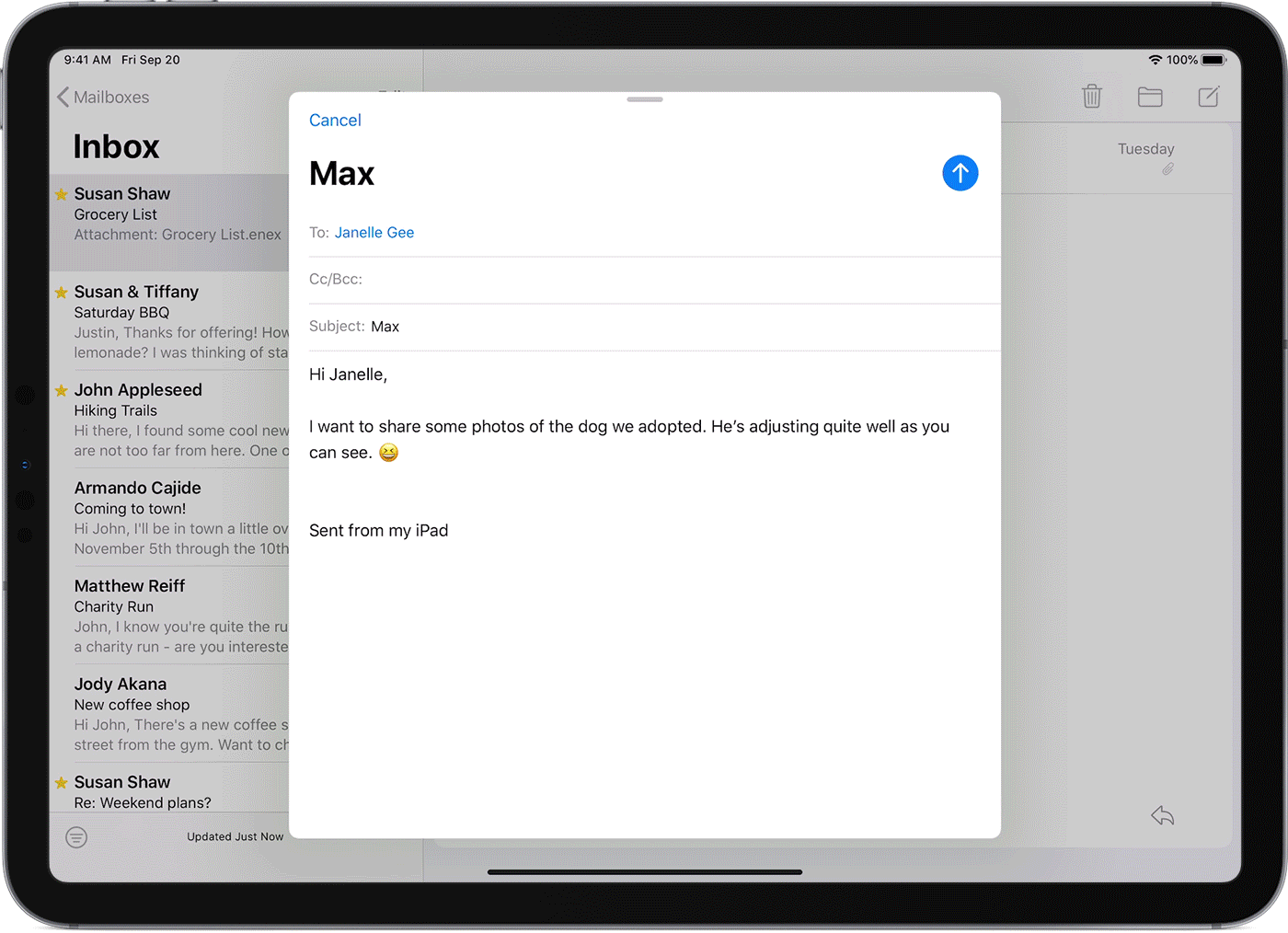 Picture from apple.com
iPad app development and Multiple Windows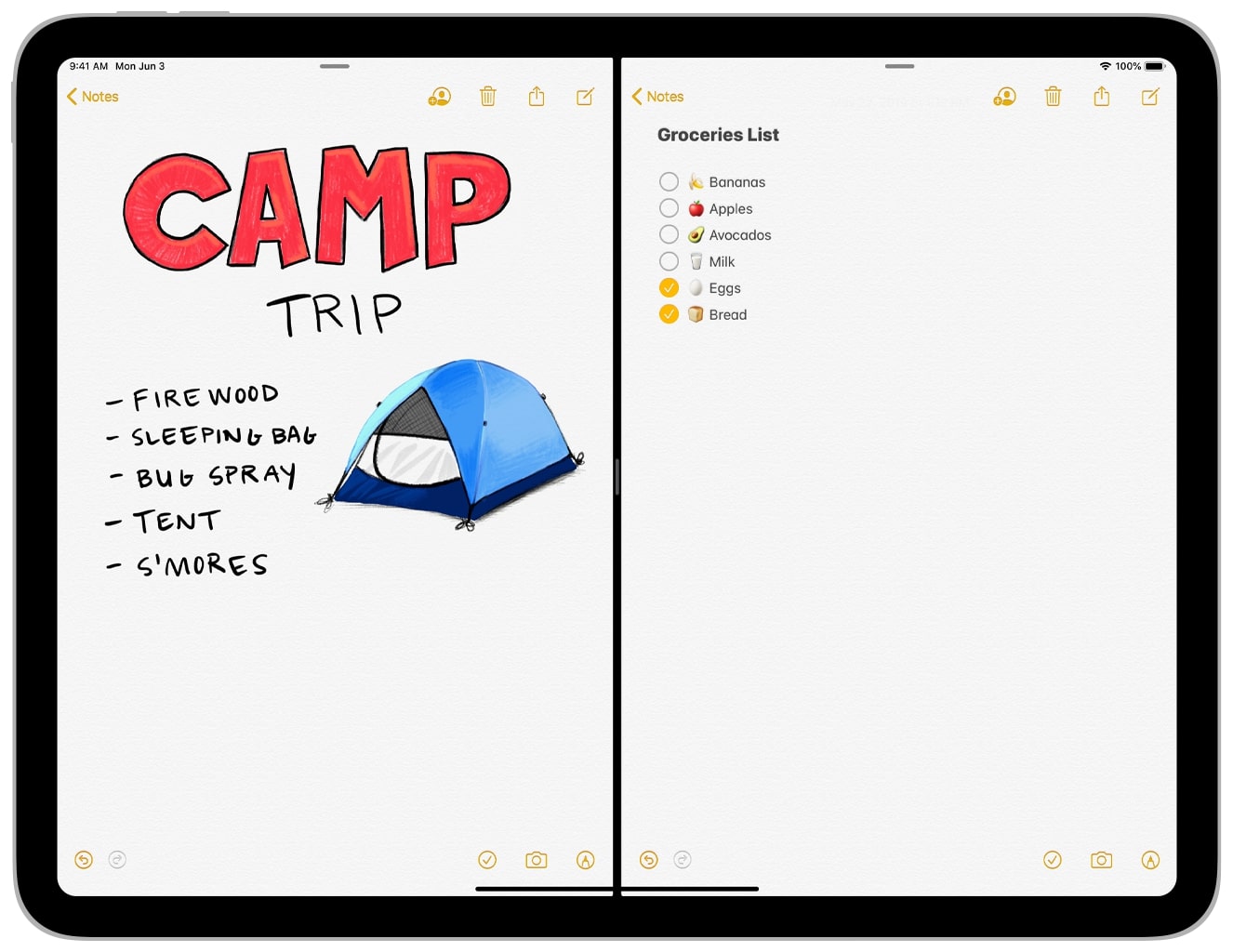 Picture from apple.com
Another feature that the users are used to on desktops are multiple windows of the same app. On the iPad the scenes (which contain the windows and controllers to present separate instances of the UI) run concurrently and share the memory and process space, which makes developing for iPad easier.
However, developers need to get used to how to handle separate delegate for each shown scene and potential competing tasks in simultaneously opened controllers. One more thing to learn about iPad app development is conforming to Apple's advice about primary and auxiliary windows and the features each type of window should provide.
iPad app development and Drag and Drop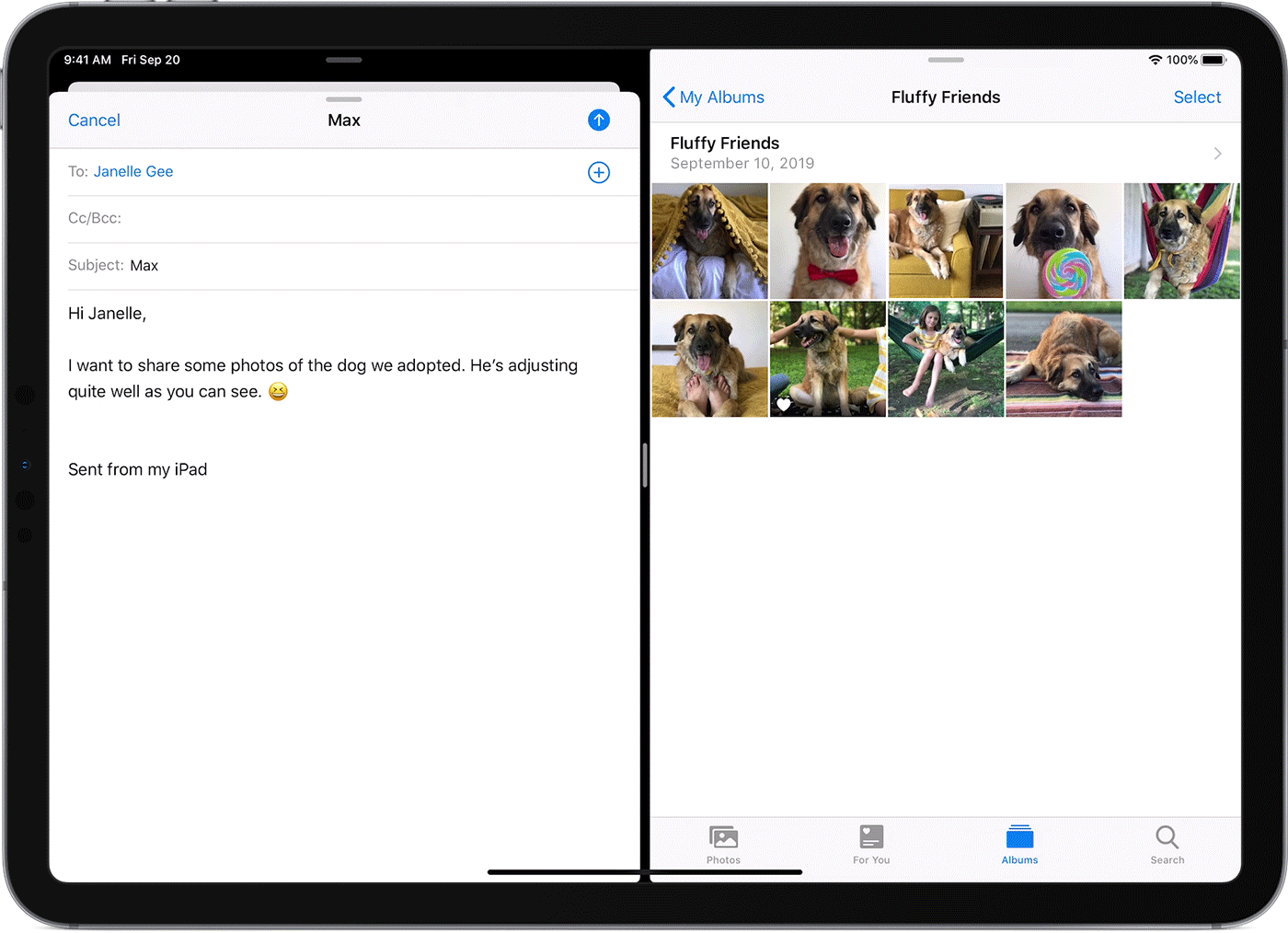 Picture from apple.com
Here's another function that came from desktops to tablets. While the iPhone supports drag and drop only within one app, iPad can have the user dragging an item from one app and dropping it into another. It's even possible to have multiple drag activities running at once, if the user is dextrous enough! Implementing useful and user-friendly drag and drop is no easy feat.
Thankfully, using system UI elements makes it simpler (drag and drop is available from the box for them), so try and design the interface with that in mind. As always, the user interaction guidelines provide a lot of useful tips and pieces of advice, make sure to check them out.
Miscellaneous tips
Apple pencil for iPad
This one is pretty specific, but if your app supports any kind of drawing, sketching or even just precise movements, you might want to integrate PencilKit. It's pretty simple to do - just use an instance of specific view provided by Apple and make sure to follow Apple's advice to make the user's experience seamless and frustration-free.
Adding iPad widgets to Springboard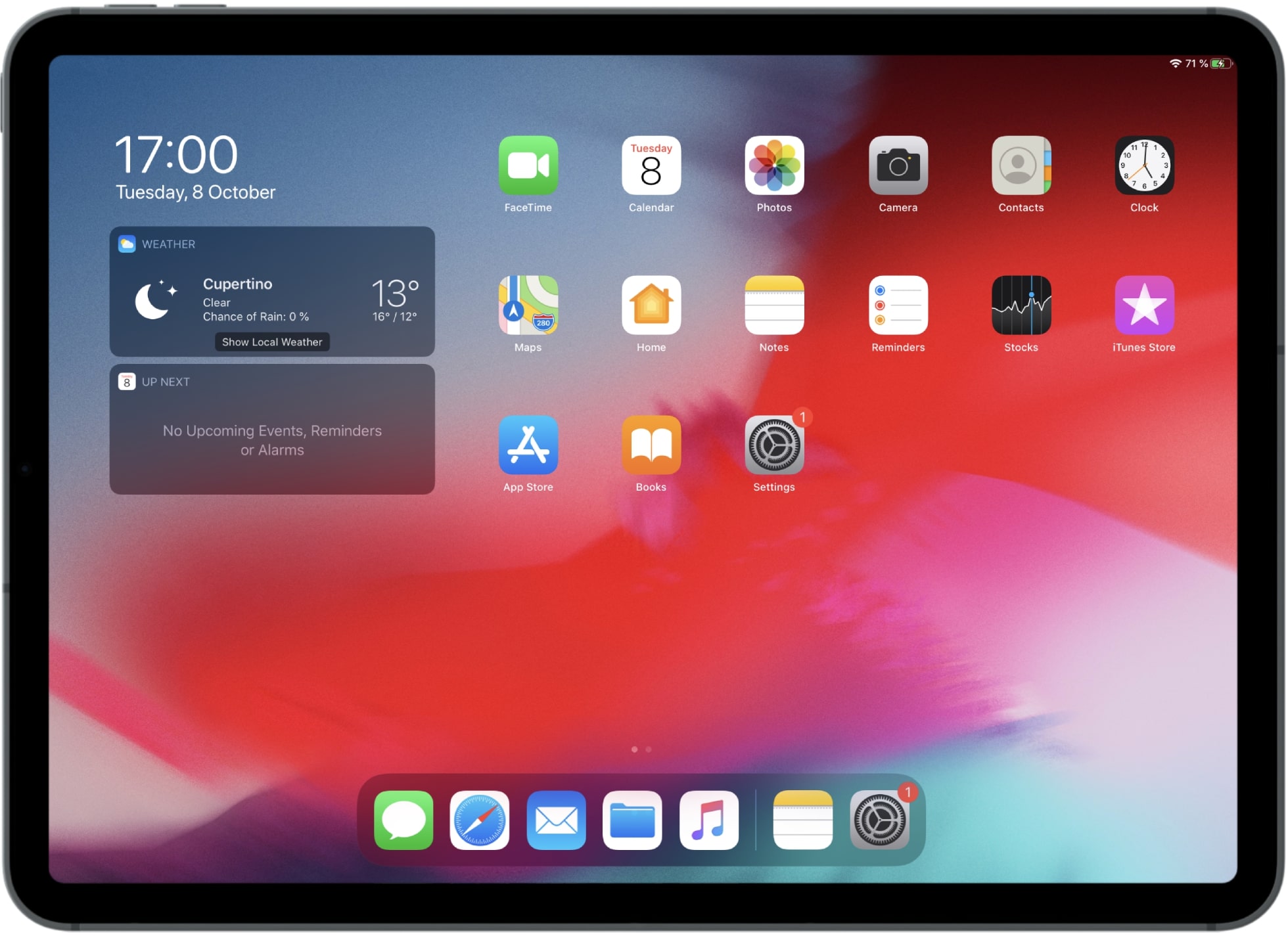 Apple now allows to pin widgets directly to the main screen (instead of a dedicated place for all widgets), so if your app can benefit from it, design a nice widget and inform the user about it! Keep in mind that you will have to compete with other widgets for the precious main screen space, so don't leave it as an afterthought.
Dark Mode for iPad
Dark mode is a long-awaited feature in the Apple world. While it's available on both iPad and iPhone, if your app has dedicated device designs it may be wise to invest some time in designing an iPad-specific dark mode UI.
It's really noticeable to the user when he has dark mode on, and some app suddenly blinds him with a bright white upon opening it. While it may seem like a tiny thing to care about, this sort of details make an app stand out.
Remember, we are not saying a good app should include all of the above (and other iPad features not mentioned in this article). However, depending on the context of your application and the features you want to provide, it's a good idea to familiarize yourself with the available tablet tools and unique flows to make an informed decision. Good luck with developing your iPad apps for the new * iOS 13* system!