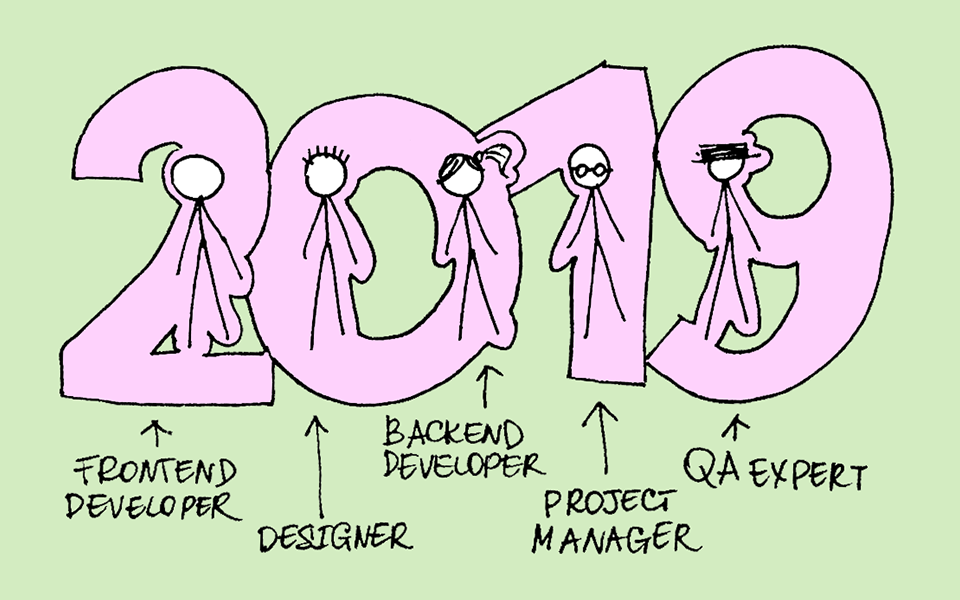 The summer of 2018 brought the ten year anniversary of the App Store, launched in 2008. During this time millions of app developers appeared, along with an army of daily smartphone users numbering one billion. This is due, in no small part, to Google and Apple, who lead the list of vendors providing their own software and thus substantially contributing to the industry's progress.
Apple's App Store remains the second-largest marketplace with almost 2 million apps available. The statistics show 180 billion cumulative app downloads in June 2017, although that number has surely grown since then. The popularity of iOS applications is largely attributed to the quality of its hardware.
If your company or studio is thinking of making its own application, your first step is to hire or put together a development team. In this article, we're going to take a look at the advantages and disadvantages of iOS developments teams, how much they cost, and who you, as the customer, will have to deal with when undertaking a new project. We'll also highlight five aspects to keep in mind when looking for an iOS development team.
Pros and Cons of an iOS Development Team
In the interests of avoiding any possible misunderstandings, the definition of an iOS development team is one that consists of programmers who create code with the help of Swift and Objective-C programming languages for iPhone, iPad, iPod Touch, Apple HomePod, and Apple TV devices.
One of the main advantages of working with an iOS team, compared with an Android team, is the reduced time and effort required throughout the engineering process. This can be explained by the fact that Android devices have a large number of OS versions (called fragmentation), and developers need to make sure that a new app will work for each of them.
Another aspect that decreases the time for iOS development is its standardized UI design. iOS has detailed UI design style guides, so it is easier for specialists to make apps that are aligned to industry requirements. The next advantage found with iOS teams is that the cost involved is lower. As it is with time, so it is with money when working on iOS. Creating an app for an iPhone, you can expect costs between $3,000 and $10,000. In contrast, the design and development for Android phones will set you back anywhere between $4,000 and $12,500. Furthermore, the cost will differ depending on the country from where you outsource developers.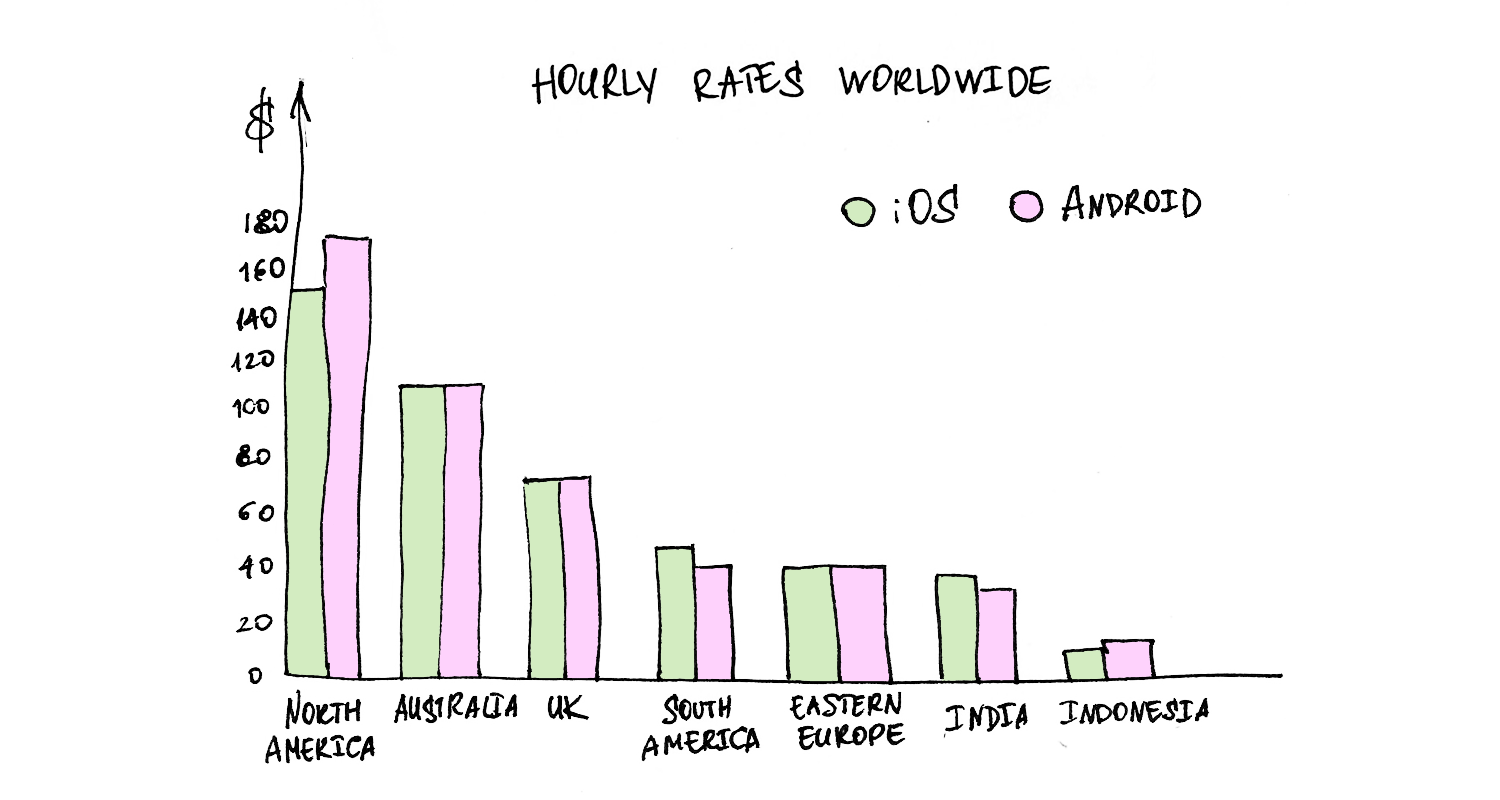 From the graph above, we can see that iOS development is cheaper than that of Android development in almost every country.
Now that you have a ballpark figure of what your costs might be, you need to remember that the expenses associated with an iOS team are less if outsourced, but could be more if you decide to set up a team on your own. One last thing to think about is whether you want to buy Macs for your iOS team members who don't already own one. This can dramatically raise the initial investment for any organization that wishes to start developing an app on iOS.
iOS Development Team Model
When we talk about the iOS team model, it doesn't much differ from any other standard team of professionals. It usually includes:
1 UI/UX designer
1-2 front-end specialists
1-2 back-end specialists (if needed)
1 QA expert
1 project manager (in-house or outsourced)
These specialists aside, you also need to think about someone who will perform leadership duties. For instance, any good team requires a "team lead," who acts as a coach. Yet, this is not an "official" position, rather a role someone who has appropriate experience and knowledge can take up.
Then there is the "chief architect," who orchestrates the working process and is responsible for the maintenance of the whole project. It is also a team role, not an official position.
Here it's worth mentioning the administrative role that anyone in the team can undertake in terms of iOS app distribution. According to the iOS Team Administrative Guide, the team's admin is a person who "manages certificates and creates profiles for developing, testing, and distributing your app" through the iOS Provisioning Portal, which is the iOS development environment.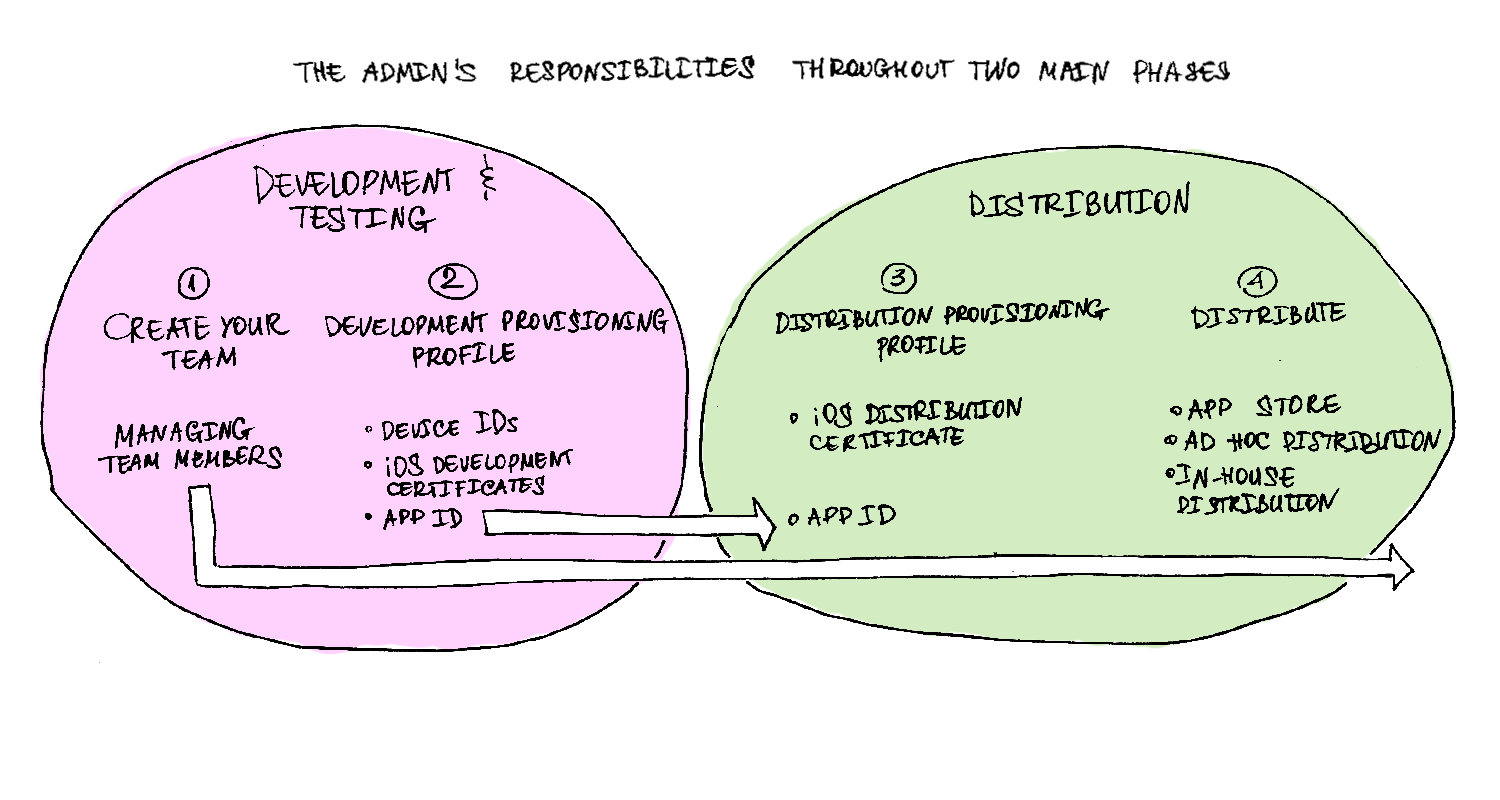 3 Things You Need to Know When Hiring an iOS Development Team
#1: How to manage an iOS development team and project
There are two main ways a team can be managed, depending on the style you prefer. Firstly, there is the more hands-on approach that is encountered with the dedicated team model. This involves you delegating tasks to the whole development team and frequently communicating with them. The other method is the extended team model. This involves you outsourcing only some experts who are to complement your core team. There is more information about these options in this article.
This being said, before your iOS team (hired or in-house) even starts on your project, it is necessary to define which software development methodology is going to be implemented. There are two main approaches: waterfall and agile. The latter is divided into other subtypes that contain some notable differences.
The waterfall methodology refers to the traditional procedure of software creation. The whole process is rigid and linear, has clear goals for each stage, and the new phase begins upon the completion of the previous one. There is no returning to a previous step once the next phase has begun.
Agile is a flexible software creation method that involves a large number of iterations. The document Agile Manifesto describes the 4 ideas and 12 principles of a flexible approach, which dictates that firstly, informal relationships are more important than documented ones, and secondly, the working product is the main indicator of progress.
The knowledge of these kind of things is vital, as they define how programmers will work and what services they will provide you with.
#2: Skills to look for
The next aspect to think about when hiring iOS specialists is their skillset. Find out what technologies they use for front and back end development, ask how they see any further maintenance and whether there will be opportunities to further scale an application, and so on. These and other similar questions can be asked about every stage of the working process. Here are some of the technologies that you should know about:
Frameworks
Apple Xcode IDE: Apple's SDK
Cocoa Frameworks: Cocoa Touch (iOS)
Apple UIKit Framework
Core Graphics — a low-level framework for creating graphic elements
Core Animation
Core Data
iOS Programming languages
Swift
Objective-C
Principles of object-oriented programming
Also, the knowledge of technologies such as PhoneGap, Xamarian, and Appcelerator Titanium are generally seen as an advantage. However, they are not obligatory, and don't have an impact on the general app development process.
#3: Previous experience
While skills are extremely important, so is the ability to deliver. Get to know the team's previous experience. How many projects have they successfully implemented? Did they complete the work in the time originally quoted? Take the time to learn about a team's previous projects, and read any reviews that you come across. It might seem time-consuming now, but picking the best team for your project will save you in the long run. You may find out that your team is adept at creating game platforms, but don't possess enough experience with e-marketplaces (or your chosen field).
Wrapping Up
…And that's it! We hope that the information gleaned from this article will be useful for you when taking the required steps toward team-based iOS development.